Name: Carmela Caldart
Profession: Illustrator
Country: Brazil (living in Barcelona)
Instagram: @carmelacaldart
---
What made you pick your 'sound' moment for this illustration?
There were a lot of reasons why I chose to use Janelle Monáe's "Make Me Feel" as inspiration for this project. Beyond being an empowering song for women, the whole album also questions and breaks boundaries of sexual and social identities as well as celebrating inclusion.
As Monáe has said herself, "'Community' was one of the words that I kept in my heart the entire time that I was making the project. [I'm] creating this space for other dirty computers like myself, to feel loved, to feel heard, to feel seen, to feel celebrated." I have tried to express the same in a lot of my work, and this song felt like the perfect place to explore that connection between music and illustration.
The music video of "Make Me Feel" is also incredible, full of color and visual references that could provide inspiration for endless illustrations.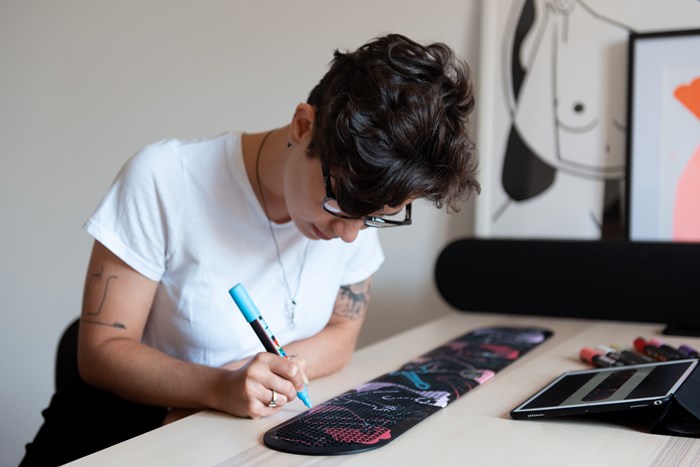 What is your favourite movie soundtrack?
Lately, the soundtrack to Big Little Lies has been one of my favorites - the music for each moment in the show is so perfectly chosen and completely sets the mood for the entire scene.
Has music had any influence on your illustration style?
Indirectly, yes - illustration, like music, involves different rhythms and tempos. I think each illustration I work on is affected by the music I'm listening to - whether that means that my pencil strokes follow the beat of the music, or the colors change depending on how vibrant the song is. It's hard not to be influenced by our surroundings, and music definitely affects my work.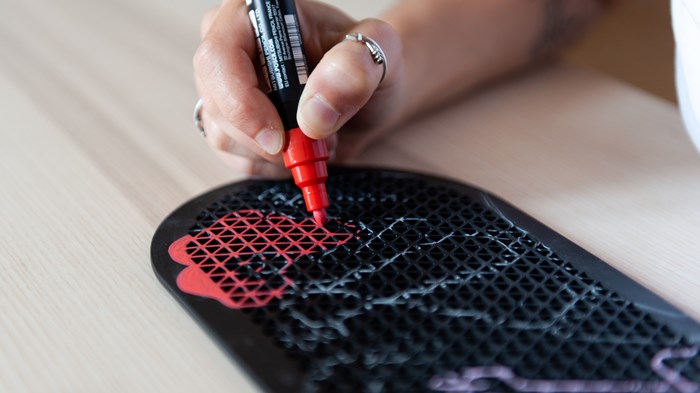 What are your earliest memories of music?
One of my favorite early memories of music is driving with my family to the beach (back when CDs were a thing!) - I would burn a bunch of CDs, and we would spend hours in the car listening and singing along. Granted, most of the time our music taste differed a lot, but when we all agreed on something it was a beautiful moment - and even the fighting over what music to play was fun.
Can you think of a perfect pairing between great visuals and sound?
I think animation is an extremely creative way to pair sound with visuals, particularly with illustration. I have recently been getting more into animation and would definitely love to explore the possibilities that exist when mixing sound with illustration and movement.
Who are your biggest influences?
My biggest influences are the people around me - friends and family, as well as the city of Barcelona. I'm inspired by the people, the food, the culture, and the amazing art around the city. Beyond that, I'm incredibly inspired by other contemporary illustrators from diverse nationalities whose work center around issues of gender, lgbtq+ issues, and equality. Some illustrators that constantly amaze me are: Pri Barbosa, Amber Vittoria, Kasi Turpin, Mark Conlan, Willian Santiago, Yukai Du and Haley Tippmann, among so many others.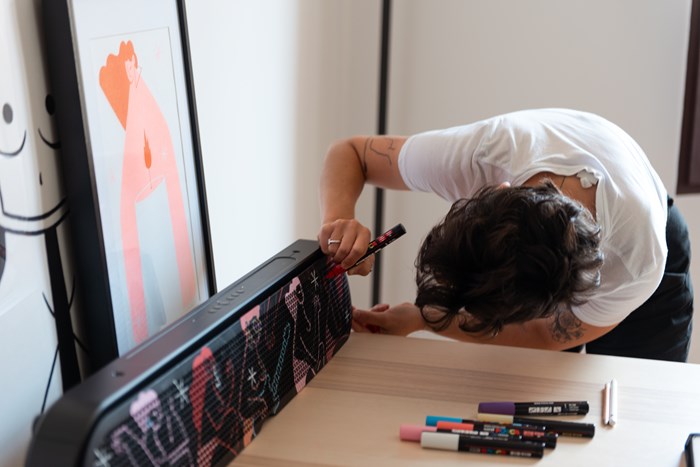 How did you get into illustrating?
I can't remember when I started drawing (it might have been when I was 2 and drew all over the walls in the house!) but it has always been a part of me. I studied graphic design because it took me a while to realize that illustration alone can be a career, but in the last few years I've been able to dedicate myself fully to it.
Does popular culture your drawings? (film, theatre, music, art)
Absolutely! I think art and popular culture go hand in hand, because art often reflects the age we are living in. As artists (whether filmmakers, photographers, actors, illustrators, etc.) we're able to use our work to express our thoughts and feelings about everything going on in the world around us, so I think it's important we take advantage of the platforms we have to do just that.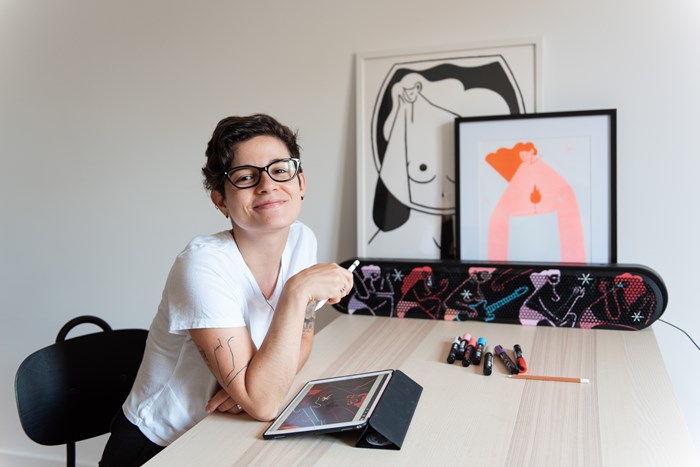 Where do you see yourself taking your illustrations in the future?
I would love to continue to use my work as a platform for spreading awareness about social issues like gender inequality, homophobia, racism, etc. Stylistically, I would also love to take my illustration work further into the world of animation and moving images, maybe playing with sound as well.
What excited you most about this project?
This project was exciting to me for many reasons - being able to mix sound and illustration by taking inspiration from music icons was definitely one. I also loved the possibility of being able to paint and auction off a Dali Katch One and donate the funds to a charity of my choice - it's a wonderful way to give back through art.