Name: Claudia Melchor del Rio
Profession: Architect, Freelance Illustrator
Country: Spain (living in Munich)
Instagram: @claudiamelchordelrio
---
What made you pick your 'sound' moment for this illustration?
Picking the sound moment for the illustration was not easy! I definitely had a lot of different movies and moments in mind, but finally what made me decide for Hakuna Matata was the fact that my roommates had just returned from a trip to Zanzibar and were repeating this famous saying all the time!
Of course, we were listening to the lion's king Hakuna Matata on repeat during that time… And honestly, it is a great saying!
Hakuna Matata my friends!
What is your favourite movie soundtrack?
My favourite movie soundtrack has to be the one from the Frida Kahlo movie starring Salma Hayek! It is so moving and inspiring, also I was born on the same day as Frida Kahlo so I fell very connected to her!
Of course there a million other movie soundtracks I love! All the Hayao Miyazaki movies have great instrumental soundtracks and I love the retro vibes of Guardians of the galaxy!
Has music had any influence on your illustration style?
I am always listening to music while I draw. I love illustrating places and in my mind, these locations are always connected to sounds or to music, to a specific light setting, colours and smells. I like to transport myself to different locations while drawing and using music as a stimulus for this helps a lot.
What are your earliest memories of music?
My earliest memories of music were of my father sitting next to his record player listening to Dire Straits, Paul Simon and Eric Clapton.
And later on, my brother in his teenage years listening to this very famous Spanish rock band Heroes del Silencio I still to this day know the lyrics to most of their songs.
Can you think of a perfect pairing between great visuals and sound?
The first thing that comes to my mind is this sound and visual art installation at La Villette, in Paris that I visited a few years ago. It was done by the artist Ryoji Ikeda and it was an immersive experience driven by sound and striking visual effects.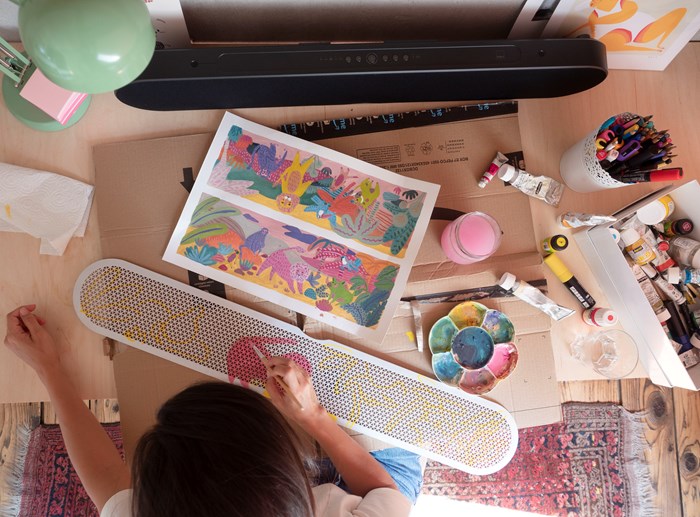 Who are your biggest influences?
My biggest influences are Lina Bo Bardi, Gauguin, Matisse…as for more contemporary artists I love Isabelle Feliu, Charlotte Ager and Tara Booth, all of them great artists!!
But honestly, I really do get inspired mostly by visiting new places, great architecture, nature, sunshine and my home island Tenerife.
How did you get into illustrating?
I know it is cliché to say but I have always been drawing. I used to say that I was the happiest when I was drawing and it is still true! I can spend hours and hours sitting at my desk drawing endlessly and it really makes me happy!
I decided to pursue a creative career, in this case, architecture which also involves drawing but more centered around spaces. I believe that architecture is the reason why I pay so much attention to composition and backgrounds.
And because Architecture is something that takes a lot of time, planning and thought I wanted to be able to let go of my creative energy doing something a little bit more instantaneous, like illustrating!
Does popular culture your drawings? (film, theatre, music, art)
I do believe so! But it is always more centred around spaces and architecture, like innovative materials and colour palettes. Or some new architecture trend.
I do not tend to portray that many popular characters in my illustrations.
Where do you see yourself taking your illustrations in the future?
I would love to be able to paint a big mural. Also, I have been creating some ceramic work and I would love to be able to illustrate those very cute vases and plates I made, and maybe some textile design? Why not!
What excited you most about this project?
Being able to unite music and art! It is something that I don't do very often and I got very excited about being asked to find a concept that revolves around a musical moment and turn it into a striking illustration in my style!
Also painting directly on an object is something I haven't done before and best of all, donating to my favourite ONG at the end of it is a plus!