Name: Marianna Tomaselli & Joana Gonçalves
Profession: Illustrator / Motion designer
Country: Spain (based in Italy) / Italy
Instagram: @mariannatomaselli & @joanaformotion
---
What made you pick your 'sound' moment for this illustration?
We chose this moment because we recently saw a movie about the first landing on the moon and we realized that this year is the 50th anniversary! So we thought that it's a big and important moment to illustrate and animate. It was such a big accomplishment for man!

What is your favourite movie soundtrack?
MARIANNA: One of the best soundtrack I think it's "Drive" by Nicolas Winding Refn. The Movie it's great but the soundtrack it's the real plus.
JOANA: The movie that I saw that made me choose this moment has an incredible soundtrack so right now I think I can call it my new favorite. It's called "First Man".

Has music had any influence on your illustration style?
MARIANNA: For sure it does. I always listen to music while I'm working. Music as every art has the power to bring you in spaces, times, and make you feel emotions, these are the bases of my work too.
JOANA: Music is always an influence on me and my state of mind so for sure it affects my animations.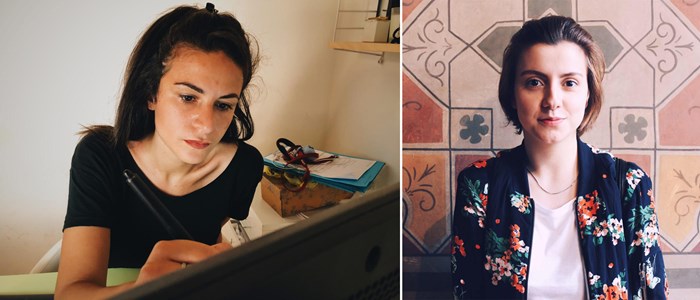 What are your earliest memories of music?
MARIANNA: I actually born with music. My mom was a music teacher and pianist. I grown up listening her playing grand piano at home. And of course, classical and lyric music h24.
JOANA: Driving in the back of my parent's car listening to the radio.
Can you think of a perfect pairing between great visuals and sound?
MARIANNA: I think the perfect match it's between movies and great music.
JOANA: I think movies and tv shows nowadays are the perfect pairing of beautiful visuals and great soundtracks.
Who are your biggest influences?
MARIANNA: I actually take inspiration from different arts: from photography, to movies and paintings. My favourite art movement it's impressionism for the use of colours related with light.
How did you get into illustrating?
Since early in my life, I remember myself drawing... Probably I wasn't even conscious of what I was doing: then at Uni, I discovered that being an illustrator could be a work, so I started following this dream. <3

Does popular culture your drawings?
Yes, definitely. 

Where do you see yourself taking your illustrations in the future?

Hope everywhere. I love travelling and the idea to combine work to travel it's my goal.
What excited you most about this project?

Since the project it's very connected with music/sound, I decided to develop it in animation with Joana, a great motion designer. We used to work together, but in this case was different, because we have the total freedom to develop style and concept. :-)