À LA POURSUITE DE LA PERFECTION MUSICALE
Il y a un long chemin entre un jour pluvieux à Aarhus et une carrière au sein d´un groupe mondialement reconnu se présentant dans des plus grandes salles de concert. Pourtant, au coeur de cette démarche, c´est le même amour pour la musique qui motive The Libertines en Angleterre ou John Hassall & The April Rainers iau Danemark.
La poursuite de la perfection musicale. Aprpendre et découvrir des choses à propos  de moi-même et le monde à travers l´écriture. Et ensuite, être capable de m´encourager et d´encourager les autres à travers ma musique. Je dirais, le développement personnel, apprendre et la motivation.
John Hassall He has been living in Denmark since 2009 with his wife and two children. The British influence is obvious, and John Hassall & The April Rainers' music has a beatlesque, British, and sometimes 60'ies American west coast feel to it:
- I think that's pretty accurate. I like to think that our music is not only looking towards the past, though. The themes and melodies are relevant to my own life here in 2017. So hopefully, they are relevant to other people too, John Hassall states.
Wheels to Idyll
- For the new album, "Wheels to Idyll", Intercity 125 was one of the first songs I wrote, and one of the first songs after I moved to Aarhus. I wanted to begin writing an album about visiting my Grandmother as a child, and this song just popped into my head. In the video, my boy Viktor is supposed to be me when I was a child. We paid him 100 kr. for it, which he immediately spent on chocolate! John Hassall says, and continues highlighting a second, co-written track on the album:
- Another song, My Two Wheels was the first time I had ever co-written a song. It's never worked out for me before, but writing My Two Wheels with my friend Steev Burgess was an exciting and enjoyable process so we wrote more together.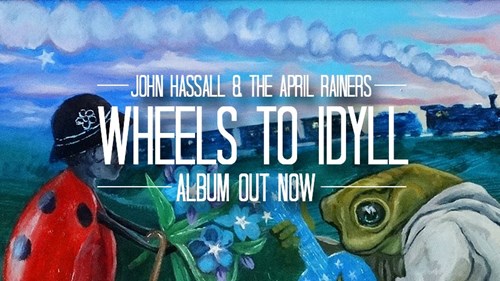 Honesty, character, and swing
- I guess when I'm songwriting I chose subject matters that already inspire me. And which I am interested in exploring. Three songs I love would be for example: Catch The Wind by Donovan, I'm So Tired by The Beatles and Blackberry Way by The Move. And if I were to mention essential ingrediences in good songs it could be: Honesty, character – but most importantly, it's got to swing!
The Libertines vs. The April Rainers
You're still an active member of The Libertines while living your daily life in Denmark. How do you balance a life both as father and family man in Aarhus as well as an international career with The Libertines?
- It's quite hard sometimes. If I'm away for more than two weeks, then we try and make it so the family can come out on tour for a bit. So, it's not too bad. And I guess my personal expression comes out in different ways in the two bands, so I don't feel like I am restricted in any way.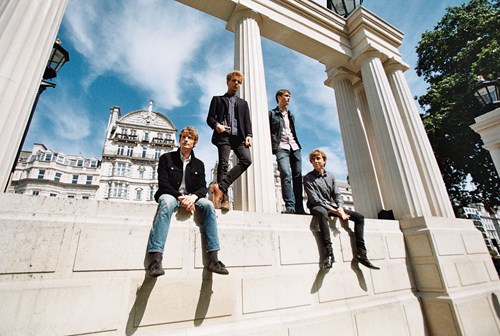 Being English, how do you see Danish culture? What do you miss or enjoy on the Danish music scene compared to the British?
- I've really enjoyed delving into Danish culture. Interesting, how great human expression shines equally brightly, but differently in different cultures. For me, The April Rainers is a great example of how music can transcend cultural difference. Our friendship and humour in the band transcends national barriers too. Most of the time!
Upcoming albums in 2018
By next year, The Liberines will have completed their new recording studio in Margate, England, where they will record their next album. Meanwhile, John Hassall & The April Rainers will also do a new album by next year too, so it looks like it's going to be busy for John Hassall and his fellow musicians. Finally, a comment on the need for quality music equipment:
- I guess you can still enjoy good music on bad quality loudspeakers/stereo/mp3, but it's certainly a much better experience listening on decent equipment. I think it's definitely worth investing in a decent quality stereo if it's something you'll be using every day for the rest of your life, John Hassall concludes. 
John Hassal and the April Rainers:
John Hassall -vocals/guitar
James Jefferys - guitar/vocals
Jakob Bruno - drums/vocals
Erlend Eggestad - bass/vocals
www.johnhassallandtheaprilrainers.com