Name: Hanna Wigert
Country: Sweden
Instagram handle: @vinylsofhanna
Speakers: DALI CONCEPT 1
Music: Hanna's playlist (on Tidal)
---
Line of work:
I have a Bachelor of Science degree in Mechanical Engineering. I work as a system engineer at a nuclear power plant.
How do you listen to music in your everyday life?
I listen to music on a daily basis: on the go, at home, when I go to work, when I work out. You name it. I especially listen to music, when I work out to get that energy boost, and after I come home from work, it's my way to wind down after a long day.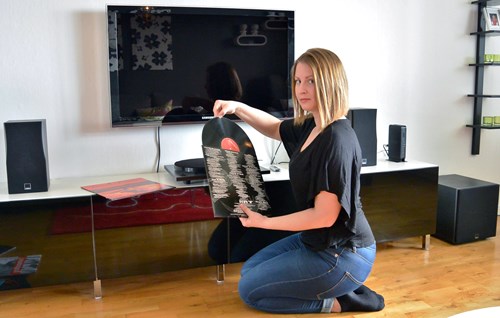 When/how did your interest for hi-fi begin?
My interest for hi-fi started when my then-boyfriend bought a pair of DALI SUITE 2.8. I was immediately impressed how well balanced and good they sounded. So I decided, I wanted to buy a pair of speakers of my own. Since I was a student at that time, I didn't really have the money to buy a pair of IKON MK2, which was my first choice, so I ended up buying CONCEPT 1. They're really good value. You can't play loud, but that wasn't really an option for me anyway, since I live in a flat. Instead they play "correct" and easily fill a smaller room with hi-fi sound. And I really like how easy they were to position. To get more depth and bass I teamed up my CONCEPT 1s with a subwoofer, DALI BASIS 100. 
I will definitely upgrade in the future. I've had my eyes on the OPTICON 6 for a while now.
Do you prefer: CD, vinyl or digital?
As a teenager I collected CDs, but lost interest due to the fact that prices just kept increasing. So I did what all other teenagers did, got my music through digital platforms. But when I reached the mid 20s, I felt something was missing. I missed the physical format.
I have a friend that's really in to vinyl, so for my 25th birthday he bought me my first vinyl record, Depeche Mode's Violator. I didn't even have a turntable at that time, but quickly purchased one, and the rest is history. I'm now close to hitting the 300 mark and have no intentions of stopping collecting vinyl records.
Why do you think that there isn't that many women represented in the audiophile world?
I have a B.S. degree in Mechanical Engineering, I work with nuclear power, I follow my favorite hockey team religiously, and I collect vinyl records. So I'm used to being the odd sheep. But I definitely have toughened up through the years, and I think that's why many women are afraid of entering male dominated fields. You need the confidence to do your own thing and not worry about what other people might think.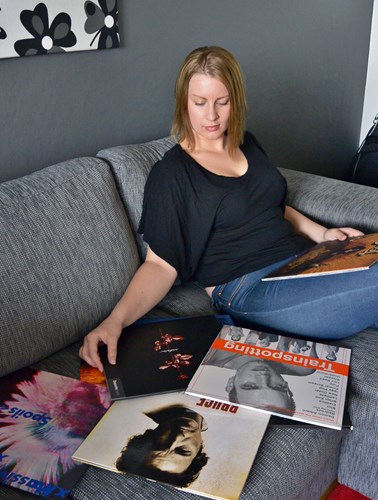 Which track will always wake a feeling in you?
That's a tough one. I have so many answers on this question – but if have to choose, I'll have to say Enjoy The Silence by Depeche Mode. Depeche Mode holds a special place in my heart, and this song always puts me in a good spirit. The lyrics are brilliant, the tune is catchy and Dave Gahan's voice fits perfectly.
How/where do you discover new music and artists?
In different ways – on the radio, recommendations by friends, magazines, music accounts on Instagram and browsing through Spotify.
The last two records that you have bought?
Garbage by the band of the same name, Garbage, and the record Singles - the Original Motion Picture Soundtrack. Both records on vinyl - I only collect vinyl.
Is there an artist, genre or period that you are particularly fond of?
There are few musicians that have made such an impact on me as Chris Cornell. I grew up listening to Soundgarden, Audioslave, Temple Of The Dog and his solo stuff, and I'm deeply saddened by his passing. He was truly one of a kind with that unique voice and with an ability to consistently produce great music.
I'm very fond of grunge, alternative rock as you can see in the bottom playlist. The 90s was the best decade ever, when it comes to music.
Which records are the pride of your collection?
My first vinyl record, Violator, is obviously special to me. I even have it in the original pressing and the reissue. I also have a vinyl record named Ståkkholmsjävlar, which is a compilation album with Swedish punk rock songs. That one is quite hard to find.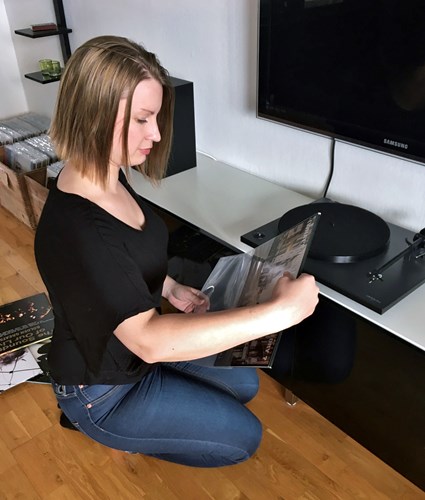 What has been your best live concert experience?
I saw Fleetwood Mac live back in 2013 at Globen, Stockholm. My parents used to play Fleetwood Mac a lot at home, so I became familiar with their music at a very early age. So it was a really big thing for me to see them live with my parents. Something I never thought would happen. I'll treasure that moment as long as I'll live.
What would be the ultimate playlist for your DALI speakers?
1. Alice In Chains – Grind
2. Audioslave – Be Yourself
3. Depeche Mode – Enjoy The Silence
4. Hole – Reasons To Be Beautiful
5. Nirvana – In Bloom
6. Pearl Jam – Even Flow
7. Soundgarden – Spoonman
8. The Cranberries – Zombie
9. The Smashing Pumpkins – Perfect
Mina's playlist on Tidal in its full length
Photo credit: Hanna Wigert