FAZON SAT
PRODUCT DETAILS
FAZON SAT is a two-way designed satellite loudspeaker including a 4½" mid/woofer with wood fibre cone and an oversized 28mm/1.1" soft dome tweeter with a powerful neodymium magnet system. The drivers share the same technology platform as the drivers developed for the acclaimed MENTOR and IKON series. 

Equipped with a 360º pivoting wall bracket, FAZON SAT offers a flexible and innovative "Twist 'n' Tilt" function. You can angle the speaker precisely horizontally and vertically; tilt it up or down, swivel it to either side and even mount it upside down.

The loudspeakers are delivered with a handy table stand for easy placement on a TV table, bookshelf, etc. The elegant and curved cabinet body is a combination of high gloss lacquered aluminium and composite material for the baffle. The surface of the baffle is treated with a rubbery coating for a smooth, elegant touch. The grille, which conceals and protects the drivers and the baffle, is held in place with magnets - allowing quick, easy removal with no visible signs of mounting pegs on the grille. Simple and stylish satellite speakers.

FAZON SAT 5.1-3
Awarded the highly acclaimed 'Best Style Package for 2011' by What HiFi, these compact DALI speakers will not let you down. An aesthetically pleasing set-up consisting of 5 identical speakers, assisted by the SUB E-12 F. The FAZON SAT pleases eyes and ears alike.
TWIST 'N' TILT
Equipped with a 360o pivoting wall bracket, FAZON SAT offers a exible and innovative "Twist 'n' Tilt" function. Whether mounted on the wall or on the table stand, you can angle the speaker precisely horizontally and vertically; tilt it up and down or swivel it to either side.
TWEETER
Most dome tweeters are 25–26mm diameter. FAZON SAT share tweeter technology with other DALI speakers, and are based on a 28mm voice coil. That means 25% longer voice coil circumference and better power handling, both short and long term compared to more common 1 inch tweeters. Moreover, power compression is reduced because of the oversized voice coil.

Power handling is further improved by the use of aluminium heat sink on the back of the magnet system.

The oversized diameter of the dome tweeter has further advantages: The surface area of the tweeter is larger than normal – resulting in higher sound pressure levels for a given electrical input. The resonance frequency is also reduced by use of the oversize dome, which will make a better integration with the sound from the mid/woofers and improve dynamics of the deepest tones the dome tweeter reproduces.

Even tough the dome tweeter is larger than normal; the weight of the dome is lower than normal, due to the use of a thin, light weight material. The low moving mass will make it possible for the dome to react faster on the electrical signals that is fed to the voice coil. The outcome is sound with a more natural character, as well as improved resolution and attention to fine details and micro dynamics.
WOOFER
The FAZON SAT features a 4.5 inch wood fibre cone, which has become a speciality in DALI driver designs since the introduction into the top-line EUPHONIA series.

Wood fibres add stiffness to paper cones without any ringing tendencies, and have proven to work as a key technology in reproducing the finest details and dynamics in the music without any loss. Paper cones are typically very light weight in comparison with other cone materals.

At DALI we believe in designs based on low mechanical losses. This means that we were among the first to insist in controlling the frequency response by carefully balanced designs, even with very low-loss rubber surrounds that will reveal problems in poor design.

We do not want to use nonlinear mechanic effects to control, reduce or limit the movement of the parts that should reproduce the music. We want the amplifier current to be the factor to control the movement.
CABINET
The use of a die-cast aluminium as cabinet construction material introduces important mechanical advantages, and has been chosen in order to meet some of the challenges it is to make great sound in a compact stylish package.

First of all, the high strength of aluminium, compared to less rigid materials as fibreboard or plastic, enables the engineers to use the thinner walls, thus utilising the speaker size for internal volume.

The use of a die-cast process has been used to further strengthen the cabinet with internal bracings and to integrate sturdy and non-resonant bases and supports for the baffle, bracket connection etc.

Further, and quite important, the die-cast process has been used to create an inner cavity without parallel sides thus avoiding standing wave modes - simply to ensure a better acoustic environment for the drivers.
DALI FAZON SAT SPECS
Product series
FAZON
Frequency Range (+/-3 dB) [Hz]
86 - 25,000
Sensitivity (2,83 V/1 m) [dB]
86.0
Nominal Impedance [ohms]
6
Maximum SPL [dB]
104
Recommended Amplifier Power [W]
20 - 120
Crossover Frequency [Hz]
1,800 Hz
High frequency driver, Quantity
1 x 28 mm
High frequency driver, Diaphragm type
Soft Textile Dome

Low frequency driver, Quantity
1 x 4.5"
Low frequency driver, Diaphragm type
Wood Fibre Cone

Enclosure type
Closed Box

Connection Input
Single Wire

Magnetic Shielding
No
Recommended Placement
Centre / Soundbar
On-Wall
Shelf or stand

Dimensions With Base (HxWxD) [mm]
287 x 146 x 172 (with table stand)
Dimensions (HxWxD) [mm]
255.5 x 138 x 87
Weight [kg]
2.4
Accessories Included
Assembly Tools
Manual
Table Stand
Wall Bracket

AWARDS & REVIEWS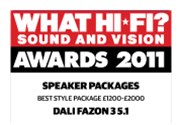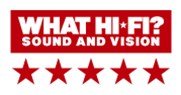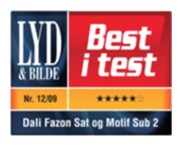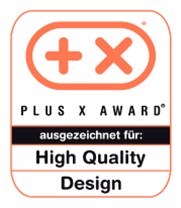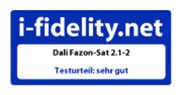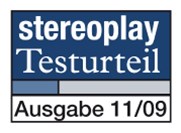 Reviews
FAZON surround setup - a setup that highlites your life
AudioVideo2Day (NL)
The Dutch online magazine "Audiovideo2day" have made a thorough review of a complete FAZON setup.
READ THE FULL REVIEW
Reviews
DALI receives two awards at the WHAT HI-FI? AWARDS 2011
WHAT HI-FI? (UK)
The new DALI ZENSOR 5 5.1 and the DALI FAZON SAT 5.1 systems each received an (well-deserved) award at the WHAT HI-FI? AWARDS 2011.
READ THE FULL REVIEW
Reviews
FAZON SAT recommended in Austria
Sempre Audio (AT)
The Austrian web-magazine Sempre Audio thoroughly tested DALI FAZON SAT with a very positive outcome.
READ THE FULL REVIEW