Name: Mina Stanojković
Country: Serbia
Instagram handle: @minastanojkovic
Speakers: DALI ZENSOR 1
Music: Mina's playlist (on Tidal)
---
Line of work:
Entrepreneurship within the food industry.
How do you listen to music in your everyday life?
I listen to music whenever and wherever I get the chance, in wide variety of ways: iPod – while I am on the go, iMac (preferably Spotify) – while I work. Having said that, nothing comes even remotely close to the experience of listening to my favorite albums on vinyl; dropping the needle onto the groove and taking a seat before the music starts. Ideally, with a drink in hand.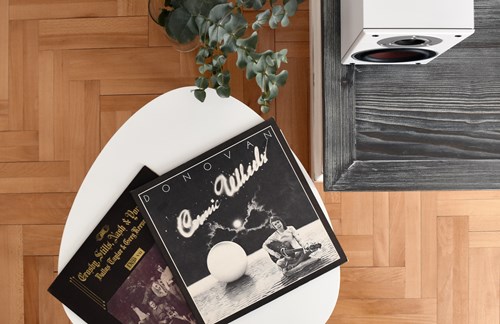 When/how did your interest for hi-fi begin?
At some point, listening to music via desktop computer stopped being a good enough way to quench my thirst for a good sound. I craved the detail, the chord structure, the decay of cymbals, the punch of a bass, and all of the sonic subtleties. That was when I began discovering the plentiful world of hi-fi. Not a single person I knew back then was entirely into it, so it took a lot of research on my part to gather the necessary knowledge and dive into buying my own hi-fi equipment.
Do you prefer: CD, vinyl or digital?
Vinyl is an ultimate favorite of mine. With vinyl, music ownership remains something tangible and transferable. I enjoy rummaging through crates, the thrill of a hunt and the wonderful sense of community. Record collectors are an extremely welcoming bunch. Vinyl is forever.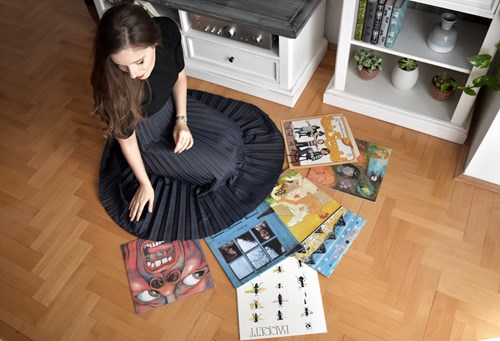 Why do you think that there isn't that many women represented in the audiophile world?
Hi-fi was, unjustly, over half a century targeted predominantly towards men. Today, in a world where gender differences are so slight, the traditional thinking of "who your target audience is" became pretty outdated. Brands that have historically had a male-dominated primary audience are beginning to recognize the importance of becoming more inclusive. It is a huge growth opportunity. I am so glad that we get to witness this change and be active participants in it.
Which track will always wake a feeling in you?
Moonchild by King Crimson. I still remember when I first heard it; it sounded like magic. If there was such thing as a song which is single-handedly responsible for changing my life, Moonchild would be it.
How/where do you discover new music and artists?
Sundays are reserved for crate digging and discovering new gems. Last.fm suggestions work quite perfectly most of the time, as well. I am incredibly happy to say that my boyfriend is the most knowledgeable audiophile that I have had pleasure of knowing. His recommendations are always on the spot.
The last two records that you have bought?
Steely Dan's Aja and Simon & Garfunkel's Sounds of Silence.
Is there an artist, genre or period that you are particularly fond of?
Absolutely! I often find myself "musically stuck" in the late 60's and early 70's. The era when psychedelic artists opened up a myriad of musical possibilities using non-conformist ways of expression, while folk artists strummed their guitars and sung their calls for social justice, individual advocacy, and systemic change. They were all creating a sense of freedom and togetherness. Active, vibrant, and liberating culture of that particular time appeals to me greatly.
Which records are the pride of your collection?
The very first pressing of Crosby, Stills, Nash & Young's Déjà Vu and Donovan's Cosmic Wheels.
What has been your best live concert experience?
I had the honor of listening to Morrissey perform live. He was able to achieve something surreal with his miraculous way with words, flair for the melodramatic, and the sweetest sense of humor.
What made you choose DALI speakers for your home stereo?
DALI ZENSOR 1 is the perfect fit for my space. I absolutely love the fact that it is able to produce such a smooth, well-balanced, rich and powerful sound – without being bulky and overly huge. On top of that, these speakers are beautiful to look at, and that is always a plus in my book. Aesthetics should not be compromised for the sake of usability.
What would be the ultimate playlist for your DALI speakers?
1. Lambert And Nuttycombe – Morning
2. Fleetwood Mac – Coming Your Way
3. Paul Simon – Still Crazy After All These Years
4. Joni Mitchell – Cactus Tree
5. The Lovin' Spoonful – Darling Be Home Soon
6. The Zombies – She's Not There
7. Peter Sarstedt – Where Do You Go To My Lovely
8. Warren Zevon – Hasten Down The Wind
9. Nico – These Days
10. The Kinks – This Time Tomorrow
Mina's playlist on Tidal in its full length
Photo credit: Mina Stanojković