At the 2017-18 EISA Awards, DALI received not one, but two awards for 'Best Product'! Our high-end DALI PHANTOM S in-wall series was named best 'Home Theatre High-End', while the entry-level DALI SPEKTOR 6 received an award for 'Best Value Loudspeaker'.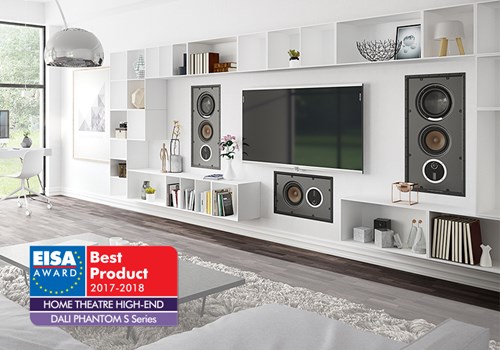 DALI PHANTOM S
EISA HOME THEATRE HIGH-END 2017-2018

The high-end DALI PHANTOM S in-wall series offer a full frequency response similar to that of a floorstanding loudspeaker, but without sacrificing valuable living room space. It delivers a no compromise in-wall audio performance with the use of proven speaker technologies.
The official EISA citation:
"Phantom by name, Phantom by nature! DALI's high-end in-wall system is the ideal setup for home cinema enthusiasts who like their speakers to be heard but not seen. The company has packaged its sonic knowhow into a series of discrete models to deliver a solid, detailed soundstage every bit as immersive as that developed by regular loudspeakers. With its four drivers, including a Hybrid Tweeter module and two additional passive radiators for extended bass, the PHANT OM S-280 sits at the heart of the system, combining with the smaller S-180 and S-80 to provide a premium cinema soundstage that must be heard to be believed."


DALI SPEKTOR 6
EISA BEST VALUE LOUDSPEAKER 2017-2018
The DALI SPEKTOR 6 has been designed in accordance with our fundamental acoustic and electro-acoustic principles and delivers a detailed, dynamic and powerful audio reproduction. Its clarity and authentic, honest sound reproduction will get you even closer to the full impact of a live music experience. The perfect choice for any stereo or surround setup.
The official EISA citation:
"Budget floorstanding speakers don't get much better than this. The flagship of DALI's SPEKTOR range serves up a seriously big sound thanks to its large, sturdily built cabinet – available in stylish black and walnut finishes – and a high quality driver complement. The soft dome tweeter is refined beyond its price class and the twin wood-fibre mid/bass units sound unexpectedly civilised, yet can really shake the room. This affordable box is far more fun than it has a right to be, and is surprisingly room-friendly too."