EPICON 8
PRODUCT DETAILS
The absolute pinnacle of the EPICON series, the EPICON 8 delivers dramatically rich and detailed sound that will blow your mind and captivate your senses. The loudspeaker is the result of a passionate, tireless quest to reach perfection.
There are musical experiences in life so epic that you wish they would never end. Moments so wonderfully overpowering the very thought of them makes your heart tremble, your mind go wandering and your ears yearn for more. With the new, awe inspiring DALI EPICON 8 loudspeaker you can relive that sensation, again and again.
Prepare yourself for musical indulgence like never before – and for a beautifully statuesque design your guests will envy.
SMC
For years designing magnet systems has been a DALI specialty. For the EPICON 8 we decided to challenge the highest market standards and to take magnet system design further than ever before in order to reduce distortion generated from less than perfect magnet systems.

The answer turned out to be a Soft Magnetic Compound (SMC) material which offers exactly the right physical properties: Very high magnetic conductivity and very low electrical conductivity (approx. 1/10.000's of iron). The result is a dramatic reduction in distortion caused by mechanical loss in the magnet system.

The high magnetic conductivity is instrumental in more or less eliminating the frequency depended effect of hysteresis. The electrical non-conductive nature of the SMC material eliminates the induction of modulating magnet fields in the magnet gab and significantly lowers the eddy current on the pole piece caused by the movement of the voice coil.

The resulting reduction of distortion is both very clearly measurable and indeed audible.
HYBRID TWEETER
For a transparent and solid rendering of even the most subtle high frequency details the finest DALI hybrid tweeter module is employed in the EPICON 8. The module consists of a newly developed 29 mm ultra lightweight dome tweeter and a 10 x 55 mm ribbon tweeter. Working in unison, the soft dome tweeter and the ribbon tweeter form the ideal high frequency solution. Combining the advantages of each tweeter's unique properties is a technology which DALI has spent years in perfecting.

Low resonance frequency, high power handling, and exceptional headroom for high sound pressure levels and extreme excursions are all characteristics of the oversized soft dome tweeter. Incorporating an ultra-thin magnetic fluid for cooling, the fluid has a very high flux saturation point for greater power handling. This also means superb control of coil movement – even at very high sound pressure levels.

The ribbon tweeter features a broad frequency band and superb dispersion in the higher frequencies. Gently rolled in above 10 kHz, the ribbon reaches full contribution from 15 kHz to well beyond 30 kHz, far above the audible range.

Both the soft dome and the ribbon tweeter are free of artefacts, e.g. resonances and high Q peaks within their working range. The Hybrid Tweeter Module features an extremely smooth and wide horizontal dispersion – one of our sound design trademarks. Even the detailing of the faceplate of the tweeter module is designed for optimal horizontal dispersion.
WOOFER
With the background of in-depth loudspeaker driver design for years, and having engineers with loudspeaker drivers manufacturing experience in-house, DALI started up the process of establishing in-house production of drivers in 2009. Today we are proud to present the result: DALI EPICON 8 woofers are not only developed - but also manufactured at the DALI headquarters in Denmark.

At DALI we believe in designs based on low mechanical loss. Actually we were among the first to insist on controlling the frequency response by carefully balanced designs. We want the amplifier voltage and current to be the factor to control the frequency response by carefully balanced designs.

The wood fibre technology has proven to be a key in reproducing the finest details and dynamics in the music with very low loss of information. Wood fibres add stiffness to very light paper cone membranes, ensuring non-uniform break-up characteristics within the material. The result is a structural stiffness showing top-class behaviour.

The wood fibre cone terminates in a low-loss rubber surround that is fitted to a die cast aluminium chassis. Assembly of the cone, surround, voice coil and chassis is done in highly accurate tools for the maximum alignment accuracy.
CABINET
Working both as an acoustic tuned 'spring' for the drivers, as well as getting rid of reaction force (resonant) energy, the cabinet is an important part of the entire speaker system.
A rigid construction is necessary to optimize the working environment for both woofers and tweeter. The front baffle, sides and top of the EPICON 8 are heated in a process that allows us to press it into an organic shape. This design increases overall rigidity and severely reduces cabinet resonances. Furthermore standing waves are practically eliminated as there are no parallel surfaces reflecting sound waves.
With a thickness of 33 mm the dual-layer front baffle ensures that energy from the drivers is radiated as acoustic energy, and not as vibrations in the cabinet. The curved shape of the front baffle is also a contributing factor in ensuring a stable acoustic platform.
At the very bottom of the cabinet, you will see that the hardwired crossover is mounted in its own enclosure - free from the dynamic variation of cabinet pressure inside the bass reflex enclosures.
The finish of the cabinet is real wood veneer which is lacquered for a total of 10 times. And in between, each layer is hand polished to ensure a deep, high gloss and elegant surface. 10 times of lacquer also ensures a sturdy finish with a thickness of almost 2 mm. That means that the entire CNC cutting for drivers, ports and terminals is done after the paint process to ensure perfect fit.
DALI EPICON 8 SPECS
Product series
EPICON
Frequency Range (+/-3 dB) [Hz]
35 - 30,000
Sensitivity (2,83 V/1 m) [dB]
89.0
Nominal Impedance [ohms]
5
Maximum SPL [dB]
112
Recommended Amplifier Power [W]
50 - 500
Crossover Frequency [Hz]
550 / 3,100 / 15,000
Hybrid tweeter module, Super high freq. driver, Quantity
1 x 10 x 55 mm
Hybrid tweeter module, Super high freq. driver, Diaphragm type
Ribbon

Hybrid tweeter module, High frequency driver, Quantity
1 x 29 mm
Hybrid tweeter module, High frequency driver Diaphragm type
Soft Textile Dome

Midrange driver, Quantity
1 x 6½"
Midrange driver, Diaphragm type
Wood Fibre Cone

Low frequency driver, Quantity
2 x 8"
Low frequency driver, Diaphragm type
Wood Fibre Cone

Enclosure type
Bass Reflex

Bass Reflex Tuning Frequency [Hz]
28.0
Connection Input
Bi-Amping

Magnetic Shielding
No
Recommended Placement
Floor

Recommended Distance From Wall [cm]
> 35
Dimensions With Base (HxWxD) [mm]
1262 x 353 x 497
Dimensions (HxWxD) [mm]
1225 x 264 x 485
Weight [kg]
47.5
Accessories Included
Base
Manual
Micro Fibre Cloth
Rubber Pads
Spikes M10
Terminal Links

AWARDS & REVIEWS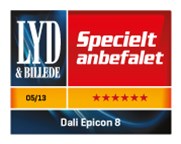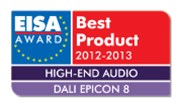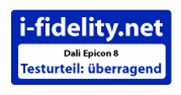 Reviews
EPICON 8 – Top performance
AV Magazin (DE)
The Brazillian hi-fi magazine, AV MAG, has tested our flagship of the EPICON series, the magnificent EPICON 8. The result is a thrilled reviewer, who hasn't seen such a perfect speaker in two years in correlation to its price and performance.
READ THE FULL REVIEW
Reviews
EPICON 8 – Sovereign presence
i-fidelity.net (DE)
The German hi-fi website i-fidelity.net has taken a closer look at our flagship in the EPICON series: the EPICON 8. The verdict is clear: It's magnificent in every single way.
READ THE FULL REVIEW
Reviews
EPICON 8 – Simply amazing
Hifi & Records (DE)
Those who haven't heard it would think that the EPICON 8 is just a pumped EPICON 6, but after a thorough test of the EPICON 8 by the German magazine, Hifi & Records, there's no doubt that the EPICON 8 is simply outstanding.
READ THE FULL REVIEW