Name: Sayumi Kataoka
Country: Japan
Instagram handle: sunshinebabe1218
Speakers: DALI ZENSOR 1
Music: Sayumi's playlist (on Tidal)
---
Line of work:
Teacher at a language school
How do you listen to music in your everyday life?
I listen to music wherever and whenever I can. When I'm on the go, I listen with my phone or speakers in the car; when I'm at home, I play on my speakers or through headphones. Even when I take a bath, I listen to music with my waterproof speakers.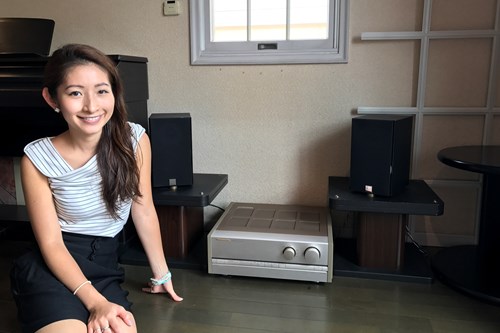 When/how did your interest for hi-fi begin?
It all started with my father who loves music and is passionate about hi-fi. He definitely inspired me to explore my interests in this field.
Do you prefer: CD, vinyl or digital?
I prefer digital nowadays since I listen to a lot of electronic music. I recently started DJ'ing as a hobby. High resolution music has a wide range of sound and sounds so beautiful. Unfortunately, I don't have a vinyl record player, but I'd love to own one just to listen to my favorite jazz and blues tracks.
Why do you think that there isn't that many women represented in the audiophile world?
I am sure there are many reasons why women are not as interested in Hi-Fi as men, but the biggest reason, I think, is that a lot of women in general are not so interested in machines, since they seem to be complicated to use. Plus they aren't usually as reasonably priced compared to other practical items. However, I believe we will have more hi-fi dedicated women in the near future since machines have become widespread, and women are gaining more financial power.
Which track will always wake a feeling in you?
Everyday I wake up with my ringtone "I Feel It Coming" by The Weeknd. This song empowers me to have an amazing day. And "All I Wanna Do" by Martin Jensen energizes me and enables me to start my day super excited.
How/where do you discover new music and artists?
I have been using Pandora radio for over 10 years, and this has been my favorite way to discover new songs and artists. My antenna for good songs is always very strong, and I would also Shazam right away on the spot if I hear a good song anywhere I go. My goal for the upcoming years is to be a DJ, and I believe constantly searching for new songs is inevitable as a DJ.
The last two records that you have bought?
I have downloaded "Hymn For The Weekend" by Coldplay and "Start a Riot" by Banners. Both are in digital format.
Is there an artist, genre or period that you are particularly fond of?
Though I listen to many genres of music, I'm particularly into tropical house these days. I love the sound of the steel drum. It's such a perfect type of music to listen to on a beautiful sunny day at the beach. Kygo and DJ Snake are two of my favorite DJs that inspire me. I also listen to deep house, R&B, soul, blues, jazz, reggae, hip hop, latin, rock and pop. 
Which records are the pride of your collection?
The Look of Love by Diana Krall, Come Away with Me by Norah Jones, and It's Time by Michael Buble. Their voices soothe my soul.
What has been your best live concert experience?
It was Brian McKnight's concert in Hawaii. I was able to appreciate his songs up close and personal. Back then I was having a hard time. Listening to him singing completely healed my heart. It's really fascinating to think that music can bring back old memories, even the ones you think you have forgotten.
What made you choose DALI speakers for your home stereo??
Those speakers [DALI ZENSOR 1] were gifts from my father. My speakers sound so clear for such small speakers. I'm very proud to own DALI speakers, and I definitely want to share my experience with my friends.
What would be the ultimate playlist for your DALI speakers?
1. Adele – Make You Feel My Love
2. Adele – One And Only
3. Clean Bandit ft. Zara Larsson – Symphony
4. Charlie Puth – Suffer
5. Michael Bublé - Always On My Mind
6. Norah Jones - Turn Me On
7. Kygo ft. Conrad Sewell - Firestone
8. Major Lazor ft. MØ & DJ Snake
Sayumi's playlist on Tidal in its full length
Photo credit: Sayumi Kataoka