ZENSOR 1
PRODUCT DETAILS
Making sense! That's what ZENSOR 1 is up to, packing as much legacy and music as possible into a slim and compact cabinet that you can carry home under your arm.
The versatile ZENSOR 1 is ideal as all-round stereo loudspeaker preferably in small to medium sized rooms. It even works excellently as front speaker in a 2.1 surround set-up or as back speaker in 5.1 systems including subwoofer, as the distinguished and discreet sound resource it is.
Distinguished by it well-known DALI signatures such as the light and yet stiff wood fibre cones delivering a highly dynamic, detailed, and undisturbed sound reproduction, while ultra-low mass dome tweeter material ensures a widely extended frequency range.
Discreet by its dimensions (H: 27.4 x W: 16.2 x D: 22 cm), 6-litre cabinet, and its design dressed in high-gloss lacquer finish that blends perfectly into a modern day interior.
The soundproof design ideas of DALI provide the background for ZENSOR 1, created in respect and admiration of music. From the overall and basic properties to any detail such as the integrated wall bracket, rounded edges, and rear-mounted bass reflex port.
ZENSOR 1 simply succeeds in converting amplifier power into pure acoustical energy without loss or limitations, and it will give pleasure to your ears and eyes over and over with focused, coherent sound and a stylish, visual identity.
TWEETER
With a clear heritage from our high end series, the lightweight dome tweeter offers best in class resolution. It features timing due to the position of the tweeter, minimised compression and increased power handling, thanks to the vented voice coil former. The damping material under the dome minimises reflections from the pole piece.
WOOFER
The 5.25" ZENSOR 1 woofer feature 4-layer voice coils for maximum control of the wood fibre cone. The low loss construction is ensured by a rigid metal basket and meticulously optimised cone. The result is bass authority, well-controlled reproduction of micro-detail and great transient capabilities.
CABINET
CNC machined MDF board, dressed in a top-of-the-class laminate forms the framework of the speaker.

In order to optimise timing, the ZENSOR's are fitted with acoustic damping material internally along the sides, top and bottom - but not on the rear side of the front baffle as this creates a more direct contact between woofer and bass port. The audible result is a more precise bass and increased 'attack' in the midrange.
DALI ZENSOR 1 SPECS
Product series
ZENSOR
Frequency Range (+/-3 dB) [Hz]
53 - 26,500
Sensitivity (2,83 V/1 m) [dB]
86.5
Nominal Impedance [ohms]
6
Maximum SPL [dB]
106
Recommended Amplifier Power [W]
25 - 100
Crossover Frequency [Hz]
2,900 Hz
High frequency driver, Quantity
1 x 25 mm
High frequency driver, Diaphragm type
Soft Textile Dome

Low frequency driver, Quantity
1 x 5.25"
Low frequency driver, Diaphragm type
Wood Fibre Cone

Enclosure type
Bass Reflex

Bass Reflex Tuning Frequency [Hz]
51.5
Connection Input
Single Wire

Magnetic Shielding
Semi Magnetic Shielded
Recommended Placement
On-Wall
Shelf or stand

Dimensions With Base (HxWxD) [mm]
274 x 162 x 220
Weight [kg]
4.2
Accessories Included
Manual
Rubber Bumpers

Optional Accessories
White Grille

AWARDS & REVIEWS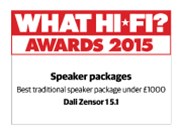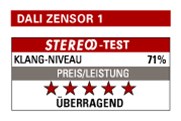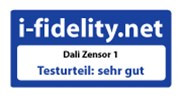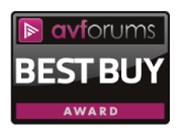 Reviews
ZENSOR 1 – 5 star review by WHAT HI-FI? (UK)
WHAT HI-FI? (UK)
Two years ago, the prestigious UK hi-fi magazine 'WHAT HI-FI?' graced the DALI ZENSOR 1's with an award. Since then, a lot of bookshelf speakers have appeared on the scene. Therefore 'WHAT HI-FI?' decided to re-visit the ZENSOR 1's to find out, if the bookshelf speakers still have it in them?
READ THE FULL REVIEW
Reviews
ZENSOR 1 group test winner in WHF
WHAT HI-FI? (UK)
Even more impressive when confronted by some putative rivals, WHAT HI-FI? states in their new edition.
READ THE FULL REVIEW
Reviews
ZENSOR 1 - Dynamic sound stage
PriceRunner (DK)
The Danish price hunting site PriceRunner has had a close encounter with the ZENSOR 1, which they rate as a "best value for money" speaker.
READ THE FULL REVIEW